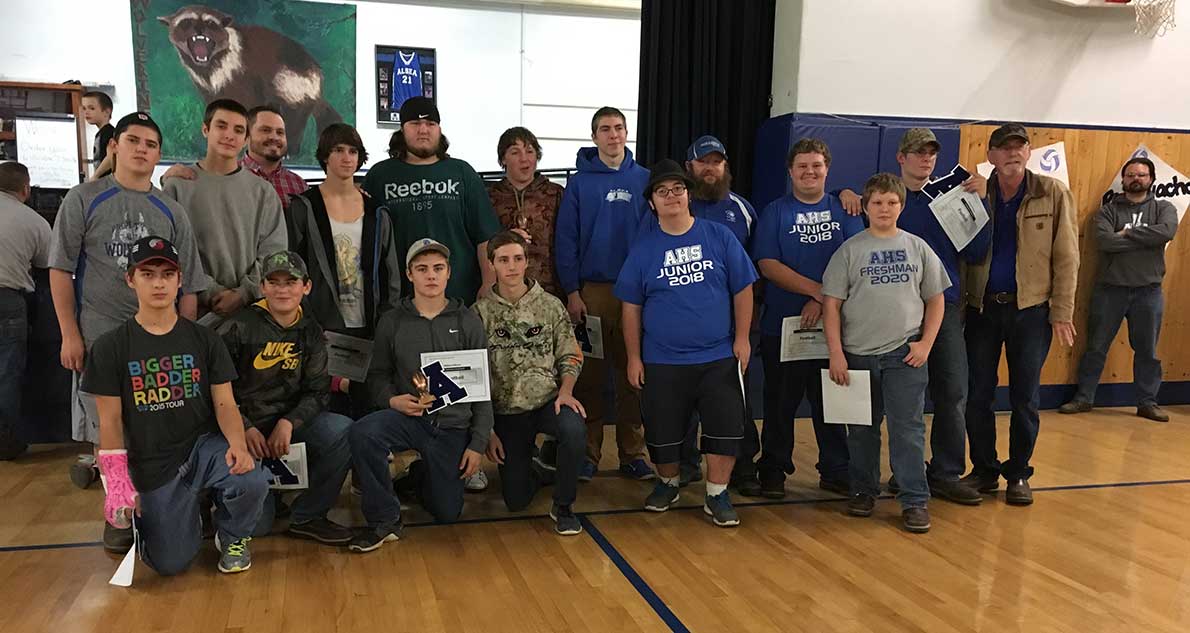 The fall sports awards night was held on November 2nd. It covered Football, Volleyball, and personal awards. All teams did very well this year and the sports program will continue to grow!
The High School Volleyball team earned 4th place in the league with a 10-6 record. Abbie Lowther got First Team All-League with 122 assists and 47 aces. Jamison (Jami) Harper got Second Team All-League. Coach Katie said she had 93 kills and 62 aces. Arielle Reed, Kaleea Bishop, Anna Chilcote, and lone senior Natalie Olsen got Honorable Mentions All-League. Coach Katie Sapp says team members Lexie Olman, Megan Harper, and Ngam Jaipreaw also played very well this season and grew tremendously. Coach Katie says, "I, for one, cannot wait to see what they accomplish the next few years here at Alsea High School." Huge thank you from the team and Coaches Katie Sapp and Ricki Hendrix to everyone that came to games and supported us!
The High School Football team finished in 8th place with a 1-3 record. There were four seniors on the team: Shawn Altheide, Christopher Dewolfe, Jarred Hendrix, and Jacob Gefroh. Christopher was awarded First Team All-League Offensive Lineman and Coach Max gave him the Best Offensive Lineman award. Jarred Hendrix was awarded Second Team All-League end, Second Team All-League running back, Honorable Mention All-League linebacker, and Coach Max gave him a leadership award. RJ Evans got First Team All-League kicker. Pere Sabate got Honorable Mention running back. Noah Estes got Honorable Mention All-League end. Dillon Elbers got an award from Coach Max for the Best Defensive player. All the team members who were injured this season are healing well.
Middle School Football awards were also presented. Dillon Olsen was awarded Player Coach, MVP went to Owen Aldous, and the Can Do award went to Ethan Cantrelle.
Middle School Volleyball awards were given to Ariyah Bishop for MVP, Rowyn Follett for Most Improved, and Madi Olsen for Best Attitude.
---