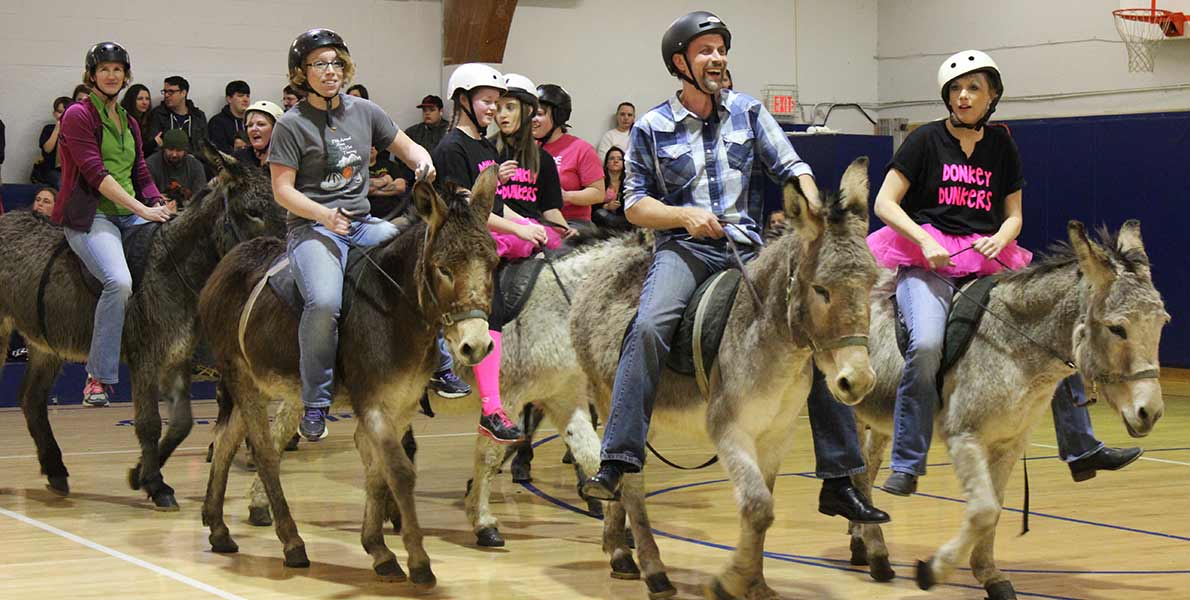 AHS is planning a week-long trip in Spring of 2018 to Washington D.C and to New York City for high school students. We are super close to meeting our first payment for the trip which is 25% of the total cost. This first payment is due the end of March. We still have a lot of fundraisers left!
On Friday, April 28th we will be hosting a Donkey Basketball Game. We are looking for two teams to challenge our staff and student teams in a tournament style night of family fun. There will be chili and for kids there will be carnival games like pin-the-tail on the donkey. Teams need at least 10 players and will require a $100 donation per team to the trip PLUS the cost of entrance per team member. Pre-sale adults tickets are $8, student tickets (7-12) are $6, and child tickets are (K-6) $4. Tickets purchased at the door are $9 for adults, $7 for students (7-12), and $5 for children (K-6) to watch the games. If you are interested in bringing your team, contact Katie Sapp @ 541-487-4305 or katie.sapp@alsea.k12.or.us.
We will also be hosting a Krispie Kreme doughnut sale on March 18th! We will deliver pre-sale doughnuts to Alsea and will be at BiMart [2045 NW 9th St, Corvallis, OR 97330] from 10am – 1pm that day. Pre-orders will cost $10. Please call the school @ 541-487-4305 or contact a NYC/ DC student to order yours. If you do not pre-order doughnuts, you can buy them for $12 on the day of the sale.
Also, we are still selling firewood. The price per cord of wood is $200 for people in Alsea and $225 for people not in Alsea. It has been left in the elements uncovered. The kids going on the trip are in work groups or the adults in charge will pick who will go do the work for you. Call the school for more info on paying hours and what work we'll be doing @ 541-487-4305.