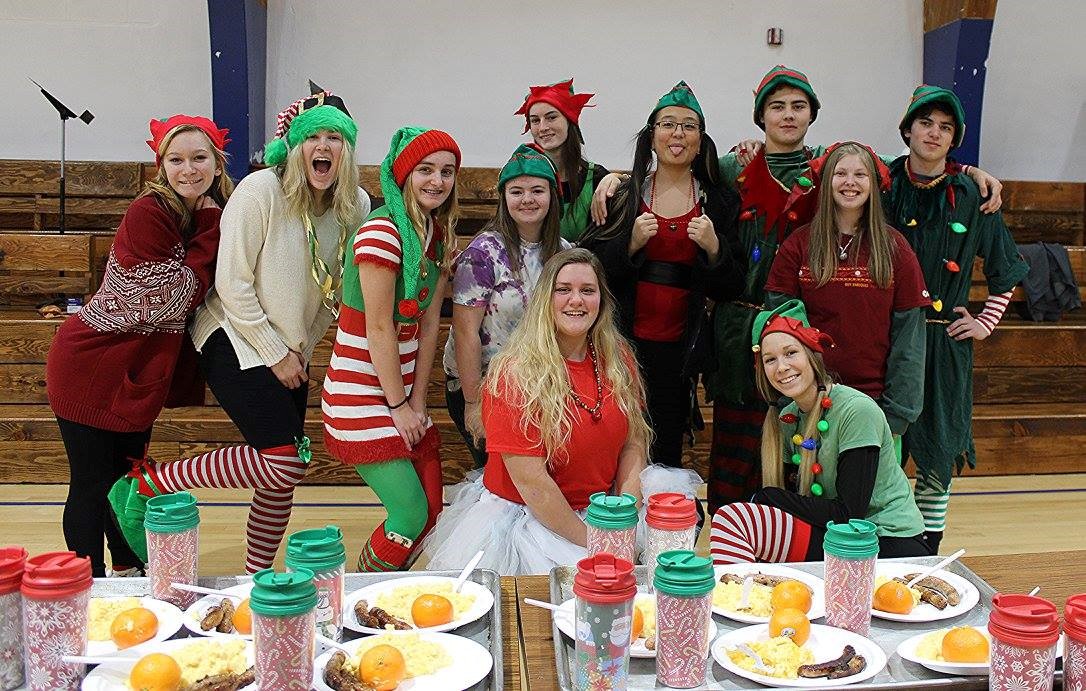 On December 13th, Alsea's elementary students had what many parents are describing as the 'best day ever at school.' Elementary teachers worked together to bring to life an idea to create a magical Polar Express Day. The result was fully engaged students learning, crafting, and experimenting alongside one another.
In an effort to keep the day a surprise, most of the details were kept secret for over a month, disguising the day as "K-5 Pajama Day" on the school calendar. Students walked through the front doors in their pajamas greeted by music from the movie The Polar Express. The entry way was transformed into an ice cave, and the hallway as nighttime polar scenery. Upon arrival to their classrooms each student received a schedule to wear around their neck. Students traveled to different stops to complete activities led by teachers.
High School students applied to be elves for the day–and were a spectacular help. The younger kids loved the costumes the older kids created and enjoyed the big kids' involvement.
In Santa's Workshop, Kindergarten teacher Shanon Rice discussed ideas from the book The Polar Express by Chris Van Allsburg while the students carefully followed directions given to create a Polar Express snow globe ornament.
In Reindeer Stompin' Stampin' students decorated special bags to carry their very fragile snow globe ornaments home in with Title 1 teacher, Holly Olsen.
First and Second grade teacher, Betsy Miller, headed up Elf Hall as her station. Students were required to listen to multi step instructions and use their fine motor skills to put together a fantastic elf craft.
At the Glacier Gulch stop, students made predictions and carried out experiments about train speed and different surfaces (ice, sandpaper, etc.) with third and fourth grade teacher Tracy Stanton.
Lori Greenfield managed the stop titled 'Whoop and Holler.' Here students played some organized movement games that followed the Polar Express theme.
Fourth and fifth grade teacher Anna Moser and about ten of her students made a delicious homemade Mac and Cheese lunch featuring snowflake pasta, sausage links, and clementines for about 85 students, teachers, and elves.
Students enjoyed a quick run around the track together for recess following lunch time. When they arrived back in their classrooms, they decorated sugar cookies until they heard the ringing of the conductor's bell and the words "ALLLLLL ABOARD!"
A very well costumed Conductor, played by Travis Rice, brought golden tickets for a trip aboard the Polar Express to each classroom. He led students, with the help of the elves, up to the library where students watched the movie The Polar Express and enjoyed popcorn and hot cocoa. At the end of the movie Santa made an appearance, followed by the ladies from the public library to introduce the Benton County Public Library's winter reading program. Many students said it was the best day they had ever had.