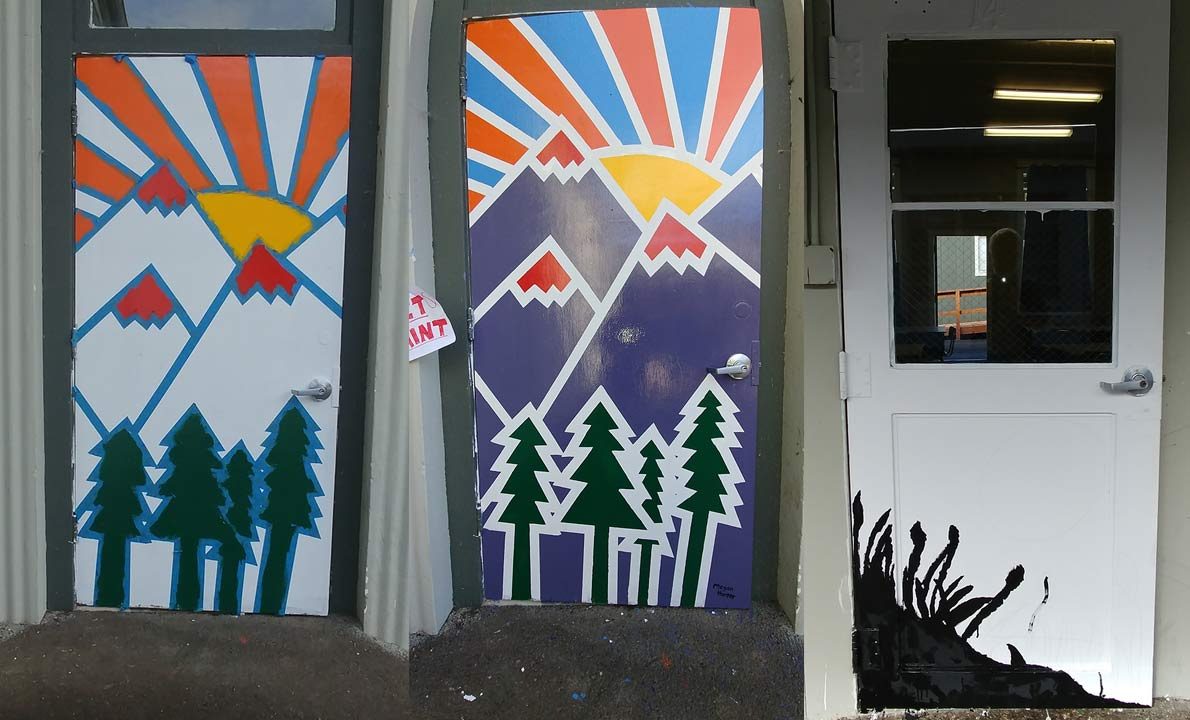 Here is the first completed painted door from the visual / performing arts elective students. A lot went into it. There was the DonorsChoose campaign to pay for the paint. Then we needed more paint. I got lucky and old friend decided to buy a bunch more paint for us.
To get the project done, students talked to the teachers whose doors were to be painted and ideas were tossed around. Preliminary designs were made. Colors were chosen. The paint orders were made. Mr. Sugerman, in some serendipitous flook of good luck, got 5 gallons of white primer for $25 (need something primed?). Doors were sanded. Windows were masked. White primer was slapped on. Some of it on the ground. Clothes were ruined. Jokes were made.
With the paint we have already, we have primed 6 doors, completed one (the picture in this post), have designs for, and partial completion of, 3 more. As soon as the next batch of paint arrives (we need brown!) the 2 other doors on that side of the building will be finished, and Carmen's school bus themed door will begin.
This first door had a design change or 2, but really got its look from Megan, who designed (adapted from another collaborative design), taped, mixed the purple we didn't have, and did the actual painting. We all came out to watch her take off the masking tape, and it was a really great thing to watch it come alive. I think everyone realizes she deserves most if not all the credit. We all agreed she should put her name down there in the bottom right corner. It looks so good. We in the visual / performing arts elective are very proud and can't wait to paint the rest.
Stay tuned!