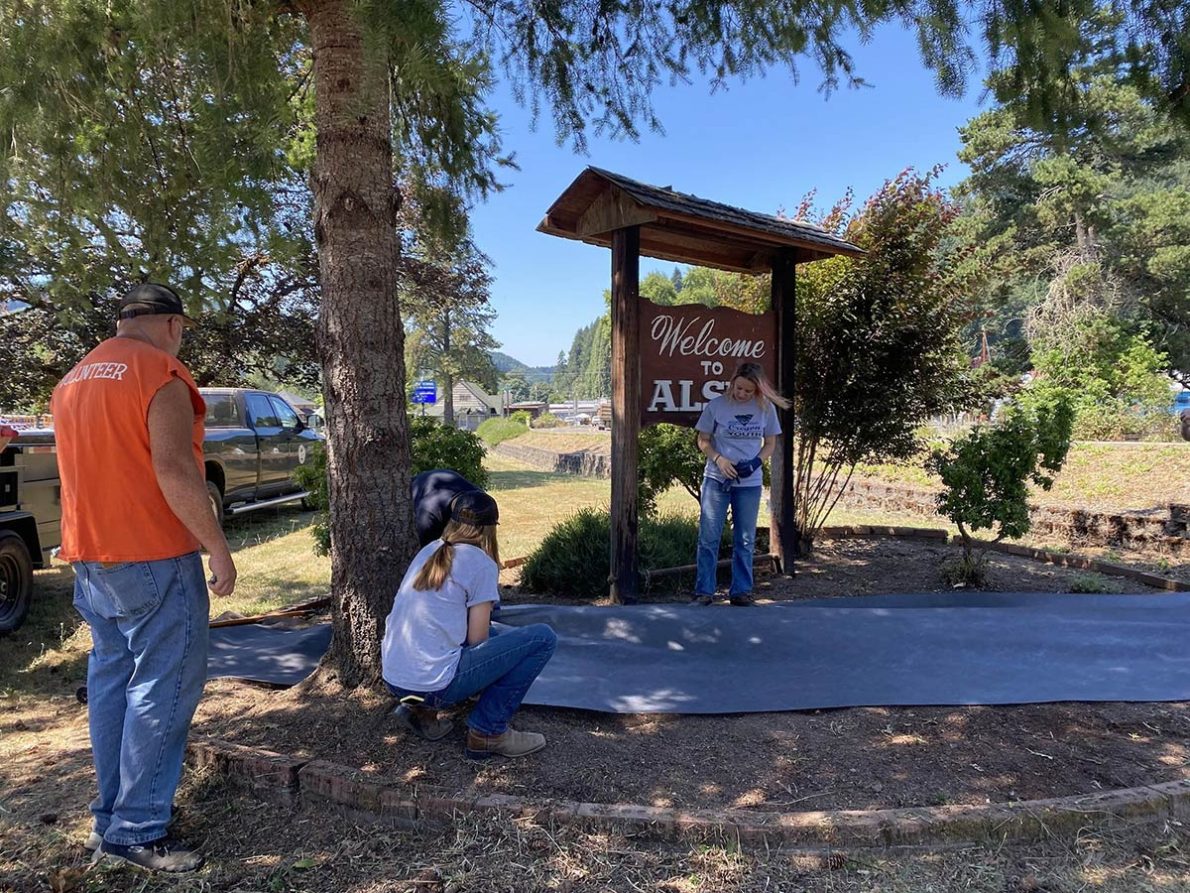 This past summer July 5th to August 12th, Alsea School alumnus Angela Turpen was once again enlivening the halls of Alsea High, this time as Principal Youth Advisor for Community Services Consortium (CSC) in Corvallis. CSC partnered with Alsea School District's Youth In Transition Program (YIT) and Special Education Department to create a student Natural Resources Work Crew. The 6-member work crew, made up of local students as well as students who attend from outside the district, did two-week stints at various locations throughout the Alsea Valley doing everything from filling potholes to painting bathrooms. Thanks to the hard work put in by the crew, the Alsea Fish Hatchery; Campbell, Salmonberry and Clemens County Parks; Alsea School; and the Alsea Fire Department are all looking spiffier. The students did everything from filling potholes to painting bathrooms but agreed their favorite job was catapulting dead fish to the eagles who live at the hatchery. Staff and community partners were impressed with what industrious workers the youth were.
Workers in the program are paid minimum wage for their time. Part of their work week included learning lots of useful skills for being successful in the adult and work world, like creating a resume, opening a bank account, filing taxes, and building a credit score. If students worked all summer, they earned time towards credit recovery for high school graduation. They could also earn a First Aid Certificate, CPR certificate and food handler's card. To help boost the participants future work, the program can be used as work experience and a reference on their future job and school applications.
The program is co-sponsored and funded through various programs, including the federal Workforce Innovation Opportunity Act and the Oregon Youth Corps. Once a student is enrolled in the program, workforce supports can continue up to and past graduation. Roxy Kelley, the YIT coordinator for Alsea School District, is on hand to steer kids towards career paths by connecting them with work places, programs and certifications. An emphasis is given to community college and trade school paths.
The program was considered a success by all involved. Ms. Turpen hopes to return in future summers, while she works to expand CSC programs to rural schools in Benton County. If you know a student who might benefit from participating in the program, please have them contact Roxie Kelley at roxy.kelley@alsea.k12.or.us. Huge thanks to all the Alsea staff, community partners, and funding partners who participated in providing this great program for our kids.